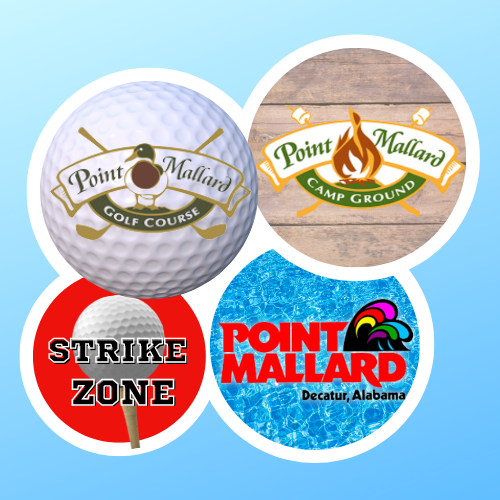 Point Mallard Park offers the Great Outdoors like you've never experienced before!
Nestled among North Alabama's wooded pines, the 700+ acre Family Park lets you tune into nature 365 days a year. Come play 18 beautiful holes on one of the South's best golf courses. Stay in our 25 acre wooded campground with 217 full hookup sites and 6 primitive sites. Visit one of America's first wave pools at our seasonal Waterpark with 25 acres of fun in the sun with attractions for your entire family to enjoy! Point Mallard's additional facilities include a three mile hiking/jogging/biking trail, multiple green spaces and pavilion areas, and a driving range.
We also host a multitude of Family Fun Events: the Daikin Festival; Dragon Boat Festival in May; the Alabama Jubilee Hot Air Balloon Classic on Memorial Day Weekend; the Wet Dog Triathlon in June; The Spirit of America Festival on July 4th; and the Battle for Decatur, Civil War Reenactment held Labor Day weekend. The Golf Course, Strike Zone (Driving Range) and Campground are open year round. Be sure to plan a visit with us this year. For over 50 years, we have offered FUN for the entire family!
Point Mallard is located just a few minutes off I-65 midway between Nashville, TN, and Birmingham, AL, at Decatur Exit 340 or Decatur Exit 334. The park is open 365 days a year and is owned and operated by The City of Decatur, Department of Parks & Recreation.